Basic Christianity is published
every other month.
Back Issues
Sept/Oct 2008
About Us
Editor:
Scott Gage
PO Box 3425
Fayetteville, AR 72702-3425
Voice & Fax: 479-521-6809
Email: LsgageI29@cs.com
September/October Issue 2017 - Volume 36 Number 5
How Can You Know God?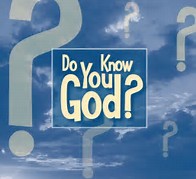 We read in 1st Chronicles 28:9-10 "As for you my son Solomon, know the God of your father, and serve Him with a loyal heart and a willing mind; for the Lord searches all hearts and understands all the intent of the thoughts. If you seek Him, he will be found by you, but if you forsake Him, He will cast you off forever. Consider now, for the Lord has chosen you to build a house for the sanctuary; be strong and do it."
David is near the end of his life when he gives this great charge to his son Solomon. There were many who had positions of authority and responsibility in attendance. Princes, captains, rulers, military heroes, and some commoners had assembled to hear King David. He refers to them as "my brethren" or "my people." He reminds them that it was originally his intention to build God's house, but God would not allow it due to his having been a man who fought many battles and spilled much blood. You can almost hear the pride in his voice as he tells the listeners that God is allowing the responsibility for building the sanctuary to remain in his lineage. 1st Chronicles 28:6, "It is your son Solomon who shall build My house and My courts; for I have chosen him to be My son and I will be his Father." Solomon's kingdom was to be established forever, provided he was faithful to the Lord!
David begins this great charge by telling Solomon, "Know the God of your father." He knew if Solomon was going to be able to do this great thing, that he must have a close relationship with God! David is not referring to "smarts" or "brains" as we might say. Nor, what we might refer to as "head knowledge." No doubt Solomon already had that. He means a deep, abiding relationship. More than just an acquaintance. The kind of relationship that endures by loving and serving God the Father. Basically, what David is saying to his son is, "Let God have His way with you; let Him lead you."
(To read the rest of the issue, click on the current issue link on the left.)